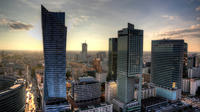 Warsaw Like a Local: Customized Private Tour. 
Get to know the city through the eyes of a passionate local. With no set itinerary, you can customize the tour or leave it up to the local for an insightful introduction to the city. Make travel about the people you meet not just the places you see.
Categoría: Tours privados y personalizados.
Inicio en: Warsaw, Poland.
Duración: 2 to 6 hrs.
Precio: 30,00 euros.